The Clerk's Letter
Serving the public in the heat of summer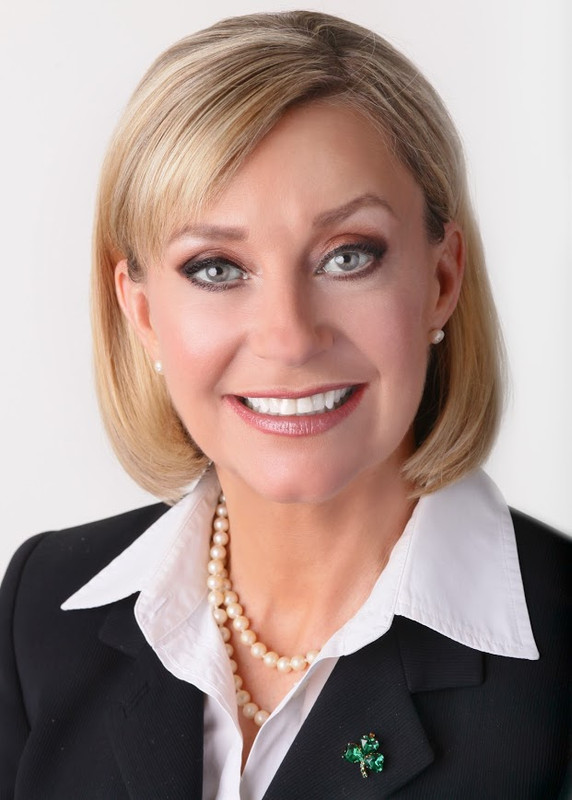 Swimming pools, sunshine, barbecues with family and friends—summer is the official season of "fun."
But amid the excitement of summer, the critical work of local government continues, constantly and consistently providing public services and resources to those we have pledged to serve.
With more than 100,000 cases filed annually in our legal divisions, as well as half-a-million annual transactions in the state's largest auto title operation, there is no such thing as a summer vacation for the Franklin County Clerk of Courts' Office. Our 200-plus deputy clerks know that providing "timely, accurate and courteous service" isn't just an office motto, but an expectation of excellence that must be met every day, on every document, for every customer—regardless of the season.
And we've risen to the challenge: Our office recently celebrated its ninth-straight year of 99.999 percent combined cash-handling accuracy on annual transactions totaling more than $170 million.
Timely, accurate and courteous service: That's our idea of summertime fun.
Enjoy your summer Franklin County!

Clerk O'Shaughnessy a finalist for Next Gen Public Service Award
Clerk O'Shaughnessy has been named a finalist for the 2018 Next Gen Public Service Awards for outstanding government achievement and will be recognized at the Next Gen Government Summit on Aug. 9-10, 2018, in Washington D.C
More than 400 government employees from around the country were nominated, with a selection committee narrowing the field to 30 total finalists in five distinct categories. Judging criteria included evaluation of the nominees' dedication to public service at the local, state or federal levels; positive impact on government functions and employees; and excellence in advancing the mission of a government office or organization.
In announcing the finalists, the selection committee described Clerk O'Shaughnessy as "highly in tune with the younger generation and a leader and innovator in a landscape of ever-increasing technology, diversity and equality to optimize the efficiency and effectiveness of government." She was nominated as a finalist in the "Silent Hero" category, which celebrates government leaders who exhibit behind-the-scenes dedication while providing the foundation for effective government services.
The Next Gen Public Service awards are presented jointly by GovLoop and Young Government Leaders.
Read the official announcement and complete list of national finalists.
Legal Divisions
'Coping with Court' featured on Columbus Underground
Divorce can be one of the scariest, most stressful times in a person's life. While an attorney can assist clients in navigating the complex legal process, help in the form of emotional support is often more difficult to find. Because of this, our office offers the public a resource meant to assist and empower those struggling with divorce and court-related stress. The reading list, entitled "Coping With Court: Suggested Reading for Plaintiffs, Defendants and Families," was recently featured on the local website Columbus Underground.

"Imagine a situation in which everything you identify with and understand about your own life changes unexpectedly," the article begins. "Imagine having your family, finances and future irrevocably upended with a single swipe of a pen. Now, imagine having to face these difficult situations, and many more that follow, alone." Titles available from the Columbus Metropolitan Library include comprehensive guides, blueprints for effective co-parenting and illustrated children's books designed to help parents discuss difficult topics with their kids.
"Coping With Court: Suggested Reading for Plaintiffs, Defendants and Families" is free and available to the public as a handout in the Franklin County Court of Common Pleas or as a digital download from the Clerk of Courts' website.
On the Road: Sharing our services in The Hilltop
The Clerk's Office hit the road once again this spring, sharing information about our public services and tools with community members in The Hilltop and surrounding areas. First up was The Hilltop Kiwanis Club, where Clerk O'Shaughnessy filled folks in on the latest news, information and updates from the Clerk of Courts' Office.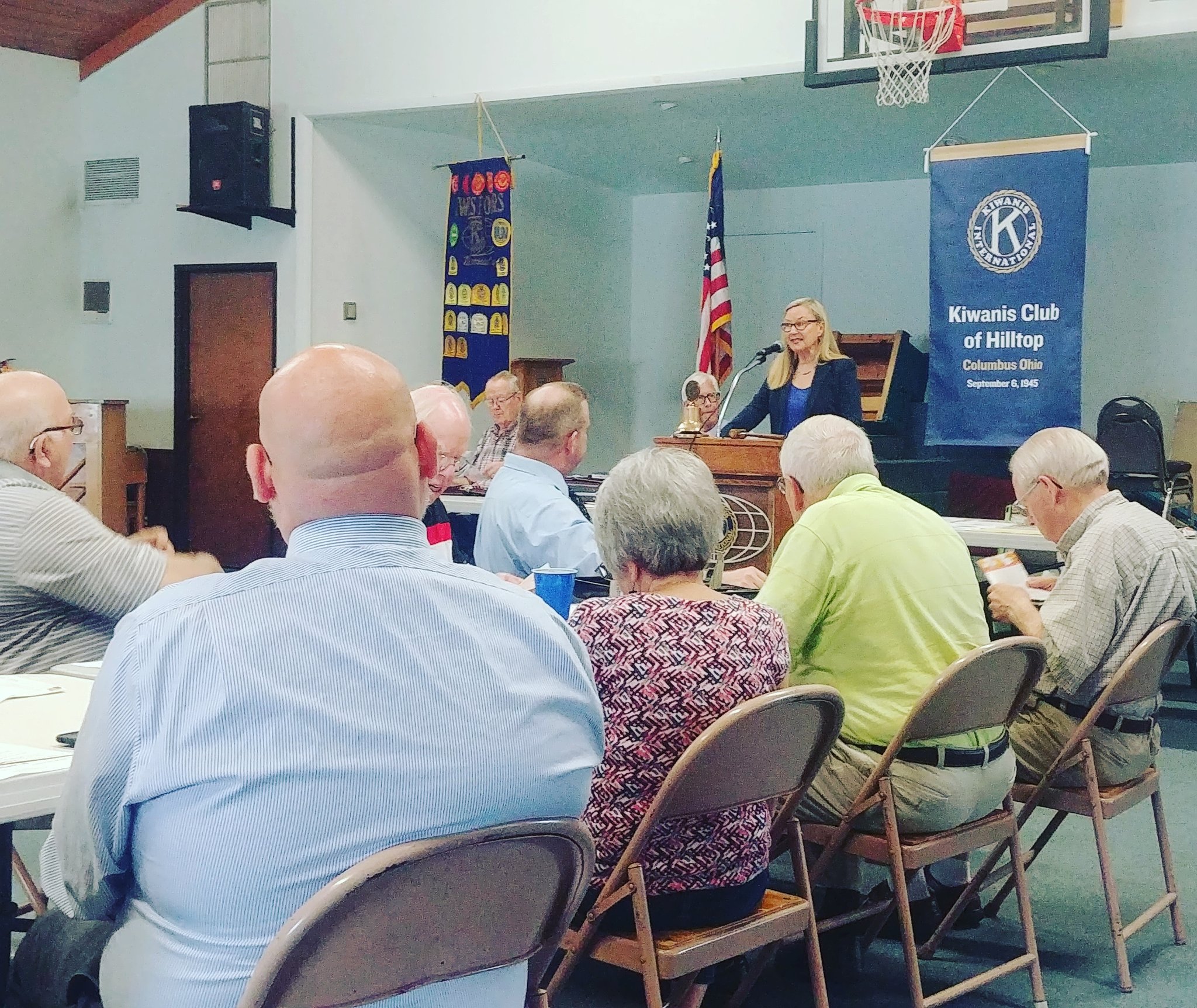 Next it was on to present our office's work at the offices of Franklin County Childrens Services, who hosted the most recent meeting of the Greater Hilltop Area Shalom Zone.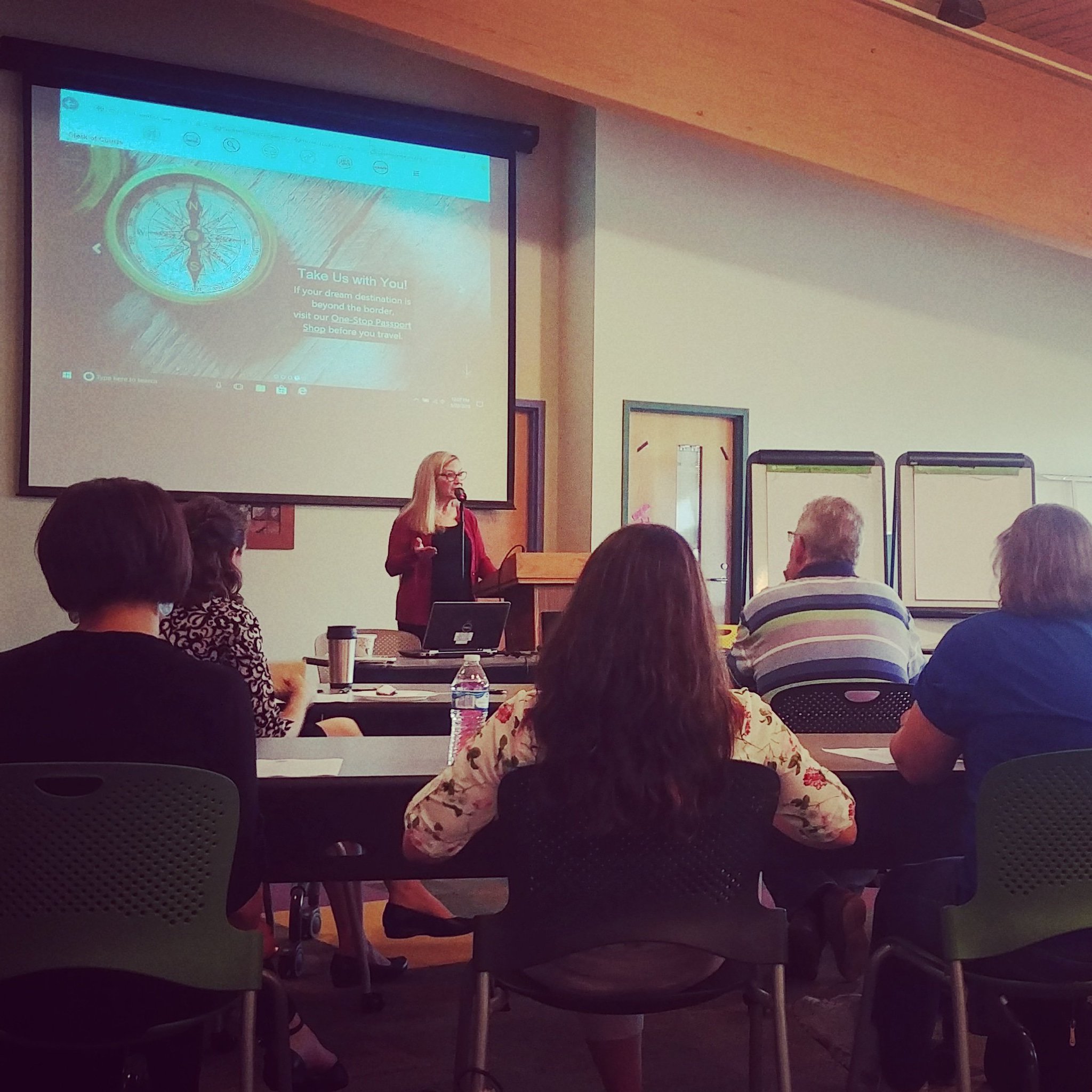 We finished up our community whirlwhind tour by handing out literature and promotional items at The Hilltop Bean Dinner, a tradition in the community that has marked the area's significance as a Civil War prison camp for more than 80 years.
After a quick pit stop back at the office, we're ready to hit the road again! If you would like our office to present our services to your community organization, send us an email at franklincountyclerk@franklincountyohio.gov.
Auto Title
Clerk's Office in the Community: Franklin County Fair
The 2018 Franklin County Fair is officially in the books, but all the amazing memories are still as fresh as a prize-winning Blueberry Cookie Cup.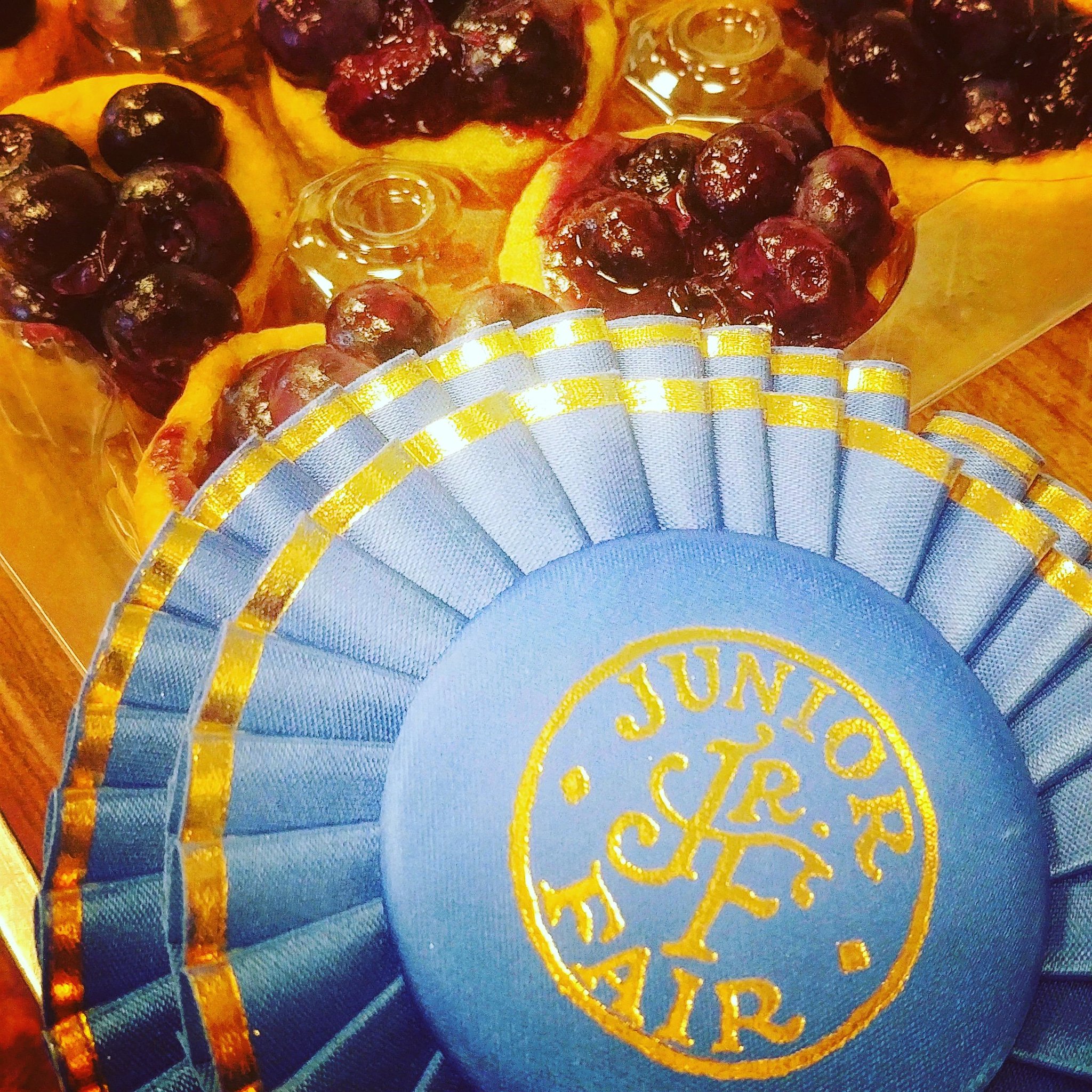 Blueberry Cookie Cups from the Junior Fair Creative Baking Auction, that is! That was our reward for spending the week at the fairgrounds sharing legal, auto title and passport information with the Franklin County crowds.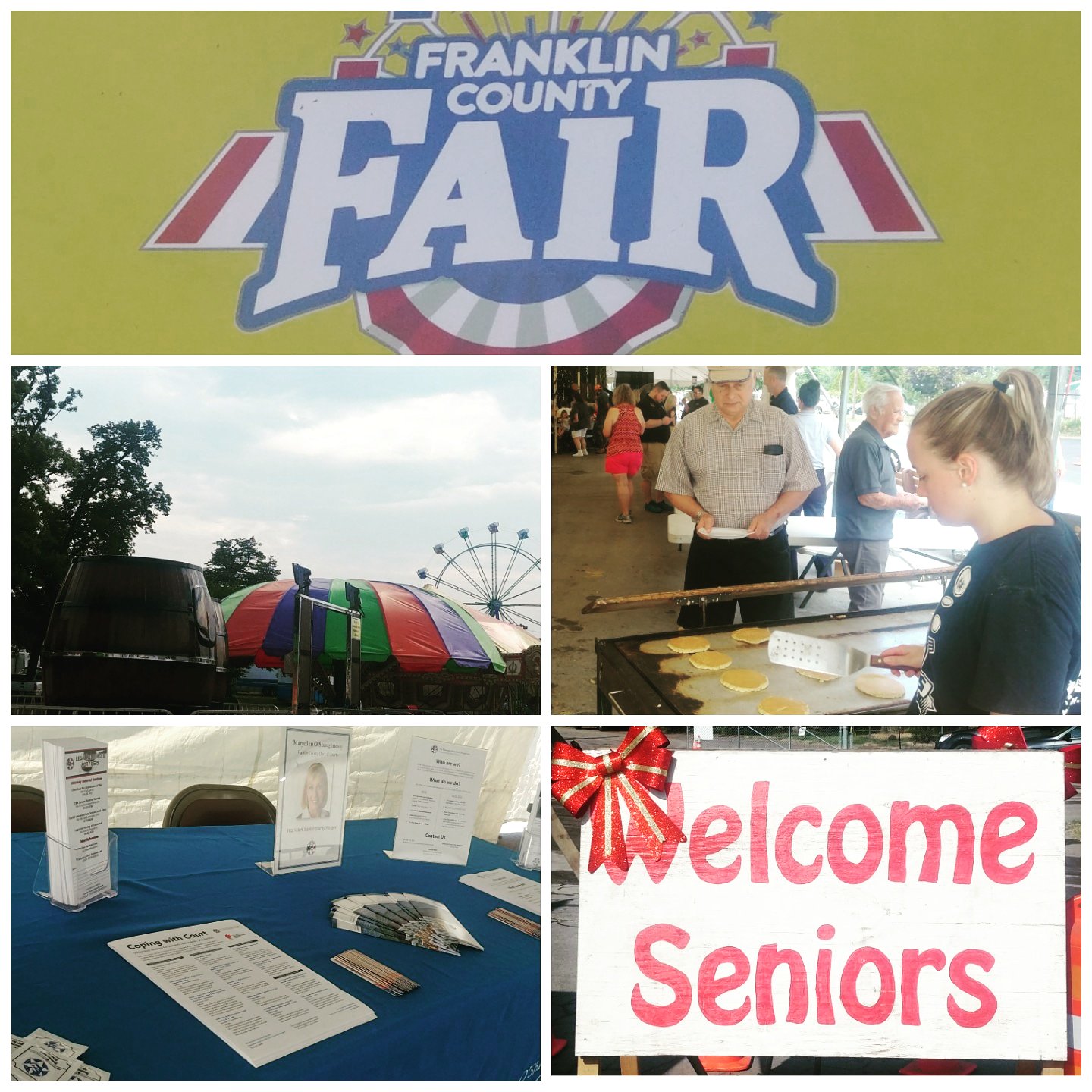 After representing our office and meeting hundreds of fairgoers (and maybe a deep-fried oreo or two), we're already looking forward to 2019... See you there!
31 Years of Public Service: Julie Erwin retires from Auto Title
It is with warm wishes that we send Franklin County Clerk of Courts Auto Title Business Analyst Julie Erwin into retirement after 31 amazing years of public service.
Julie was instrumental in the many innovations implemented in the Auto Title process by the Clerk's Office in the past three decades, including the implementation of the next generation Auto Title branches, Lobby Central customer queue and the refresh of the new Auto Title website, in addition to a host of contributions and support to the new State of Ohio Automated Title Processing System. Julie was an advocate for sound best practices for motor vehicle title processing and worked diligently to implement processes to ensure that Franklin County's four title offices issued titles timely, accurately and in accordance with the Revised Code.
Julie was an active member of the OCCA's title committee, served on the Summer and Winter conference planning committees, and contributed to improved notary manuals and title design. Julie not only served Franklin County but is acknowledged among her statewide colleagues as a devoted and tireless advocate crafting best practices for all 88 Ohio County Clerk's offices.
Her hard work and expertise will be missed in our Auto Title Division, but her impact will live on in the services and resources provided by the Franklin County Clerk of Courts' Office for years to come. Enjoy your retirement, Julie, you've earned it!
(By Kenny Skeaton)
TAC in ACTion
Fantastic feedback: Customers call out outstanding service
Here's a sample of some of the outstanding feedback our staff received this quarter:
"Debra was very professional and helpful. She made the process painless and put me at ease. I thank you for having workers who help people in doubt through the process." —Tracey M., via comment card
"Efficient, professional and courteous staff. EXCELLENT SERVICE!" —R.D., via comment card
"Debbie was very professional and helpful. She is a credit to your office. Very friendly, excellent!" —Barbara S., via comment card
"Daniel Jackson: Need someone like him in my office. Very professional." —Tommy C., via comment card
"I have never been here before, and when I walked in I was low-key overwhelmed. Daniel was a perfect gentleman and offered his help with a chipper attitude. He's wonderful! Keep up the good work dude!" —Cody F., via comment card
"[Auto Title East] Very professional. Helped me with everything I needed. Answered questions." —Marilyn W., via comment card
"I've had the best service with Jeanetta and I left from this branch happy." —HHR Auto Sales, LLC, via comment card
"Craig Allen was such a delight and was able to solve an ongoing issue I was going through. Check-in was simple and easy." —Nora D., via comment card
"Lori was so nice and polite to me and my family. She is one of the best people! Thanks Lori!" —Adolphus F., via comment card
Livestreaming, alerts and info: Follow the Clerk on social media
Did you catch Clerk O'Shaughnessy's livestream message for Memorial Day 2018? If not, be sure to follow our office's official social media accounts on Facebook, Twitter, Instagram and YouTube for the latest news and information from the Clerk's Office! You can find (and follow) them all at clerk.franklincountyohio.gov/getsocial.