The Clerk's Letter
Clerks Helping Cops, Dealertrack, and Jungle Jack: A Fast Start to 2018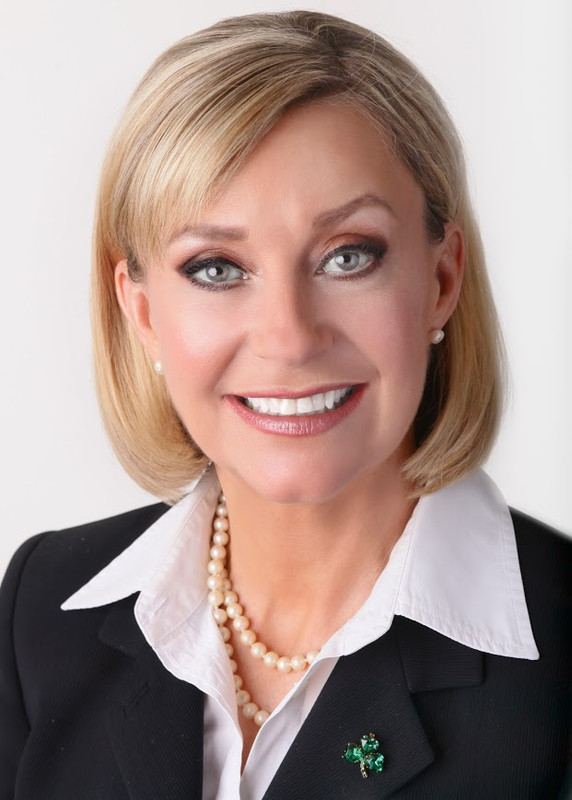 Our office has a lot of bragging rights to share in this first issue. All that bragging is due to the great work my expert deputies in the Auto Title and Legal Divisions provide to this community.
Select staff representing the Auto Title Division accepted an award during a February ceremony at the Ohio State Highway Patrol headquarters. These representatives were joined by members from OSHP and several law enforcement agencies and received certificates honoring their collective participation in curtailing a criminal operation that involved stolen vehicles and illegal narcotics.
Additionally, our General Division realized a 10 percent increase in passport applications presented to our "One Stop Passport Shop" in 2017. Customers have received expert review of their applications and my clerks have offered expedient and cheerful service. You won't want to travel anywhere outside the U.S. without first visiting my One Stop Passport Shop. We can also process your official photo for only $10 during your one-stop visit.
Next, free eTitle training sessions for Franklin County auto dealers were conducted at three of our four Auto Title offices. Local dealership representatives attended those sessions, presented by Dealertrack, the State of Ohio's selected electronic titling vendor. Attendees became familiar with the no-charge electronic titling process as well as other services this vendor offers. Not only was the training helpful to those who attended, but the new process will benefit those customers who plan to have their vehicular titles transacted in Franklin County.
We've also connected with several local community partners. The Supreme Court of Ohio published an article reminding Ohio attorneys to access our library of up-to-date-forms when filing cases to the Court of Common Pleas or the 10th District Court of Appeals; our passport services were featured in an article published on ColumbusUnderground.com; and the Columbus Zoo & Aquarium's own "Jungle" Jack Hanna volunteered his voice for our One-Stop Passport Shop public service announcement campaign.
Read on in this newsletter for more details about these and other great examples of the exemplary work of my Deputy Clerks and this office. We're off to a great start in 2018, and look forward to continuing to serve Franklin County with timely, accurate and courteous service!

Auto Title
Auto Title Honored by Ohio State Highway Patrol
The Ohio State Highway Patrol handed out certificates to representatives from the Auto Title Division in front of an audience of more than 200 attendees at a February 2018 ceremony. The division was recognized for its role in exposing a sophisticated criminal operation involving stolen vehicles and illegal narcotics.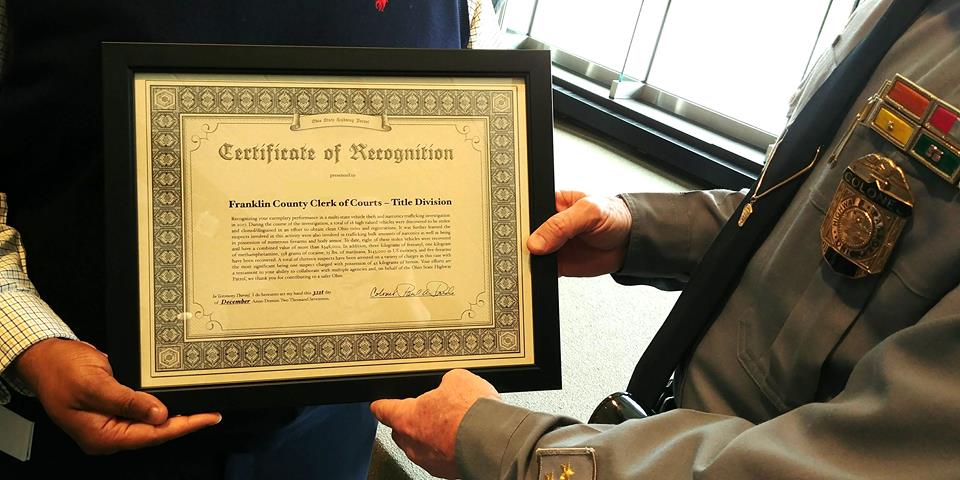 Joining the three Title Clerks at the awards ceremony were representatives from the State of Ohio Public Service and local law enforcement agencies. Colonel Paul Pride, Superintendent of OSHP, complimented all honorees for their exceptional work and attention to their duties as public servants in assisting the OSHP, curtailing further criminal activity, and helping keep Ohio safe. The items confiscated included more than 45 kilos of heroin, fentanyl and other illicit drugs, as well as the recovery of eight vehicles values at $350,000. Additionally, 13 suspects were arrested and are awaiting trial.
"I'm not surprised that my Auto Title Division stepped in and actively participated in this investigation," said Clerk O'Shaughnessy. "This work is consistent with the division's track record of unparalleled accuracy and attention to detail, factors that are indicative of the way my Deputy Clerks handle auto title business every day."
The Future is Now: Electronic Auto Title Training for Dealers

More than 40 participants from local dealerships were trained in Electronic Titling led by experts from Dealertrack, the State of Ohio's select vendor powering the Ohio Electronic Title Link solutions.
Eight sessions were held at three Auto Title locations beginning in February and continuing into March. Those who attended these special sessions became familiar with and the ease of "next generation of auto titling." The benefits of electronic titling are not limited to the work done by dealerships through Franklin County Auto Title Division. Customers will also benefit from the streamlined customer service and reduced processing times in obtaining their Auto Title from dealerships that conduct business with Franklin County.
Auto Title Division Director, Kenny Skeaton noted that, "our county processes the largest volume of auto titles in the State of Ohio. With electronic titling as a modernized process to our business, we can add expedited to our core values of accurate, courteous and timely service." The more business generated in and by Franklin County Auto Title the stronger this county's budget becomes, and in turn the more resources available for county agencies to provide essential services to Franklin County recipients. In 2017, more than 551,000 auto title transactions exceeding $141 million were managed in the four Franklin County Auto Title offices. Because the electronic titling was not fully in place until 2018, processing of those transactions occurred at these locations with all documents transacted in paper format. The division reported an accuracy rate of 98.9% of transactions and a turnaround time for dealer packets at under four hours.
Legal Divisions
Jungle Jack Lends His Voice to the One-Stop Passport Shop
Our office recently launched a multichannel public service announcement campaign promoting its passport services with the help of a roster of locally known celebrities, including international wildlife personality and Director Emeritus of the Columbus Zoo and Aquarium, "Jungle" Jack Hanna.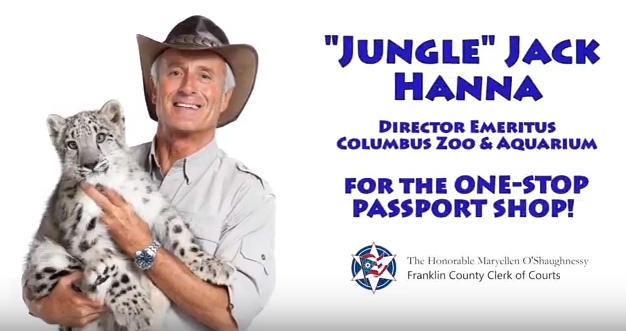 "I can't travel outside the United States without my U.S. passport," Hanna says in a pre-recorded radio spot created for the campaign. "So before I set sail, I can have my passport application accepted and my photo taken at the Clerk's One-Stop Passport Shop." Other voices featured in the PSA series include local media personalities Mikaela Hunt and Anietra Hamper, as well as longtime Columbus public radio host John DeSando.
The One-Stop Passport Shop, located on the first floor of the new Franklin County Courthouse in downtown Columbus, is open 8 a.m. to 5 p.m. and offers a no-appointment walk-in environment, expert application review and onsite photo service. Visit clerk.franklincountyohio.gov/passports for more information.
Around the World in 72 Hours: Passport Fun at the AAA Travel Expo
Thanks to our friends at AAA Travel, we were lucky enough to bring information about our One-Stop Passport Shop to more than 11,200 attendees over the course of three days at the Great Vacations Midwest Travel Expo, held at the Columbus Convention Center. Check out our souvenir photos below!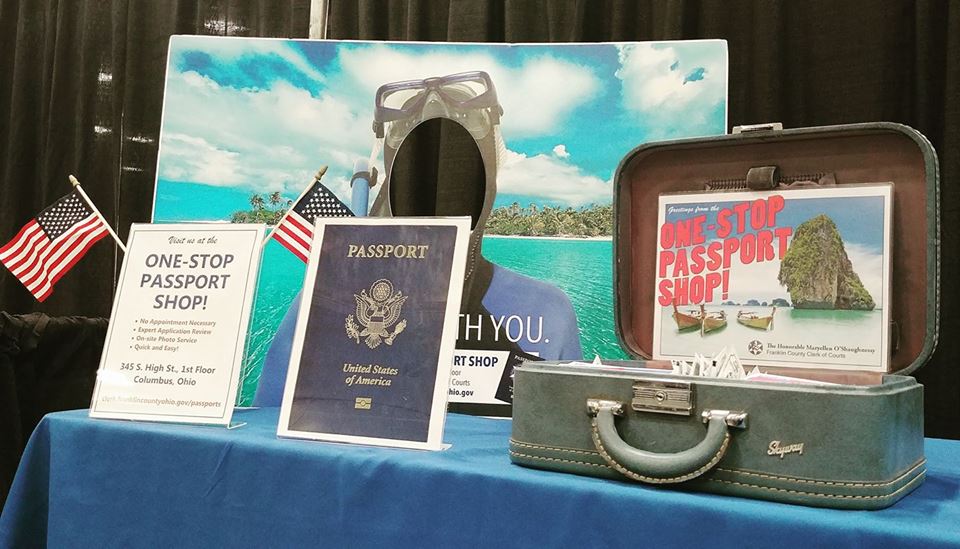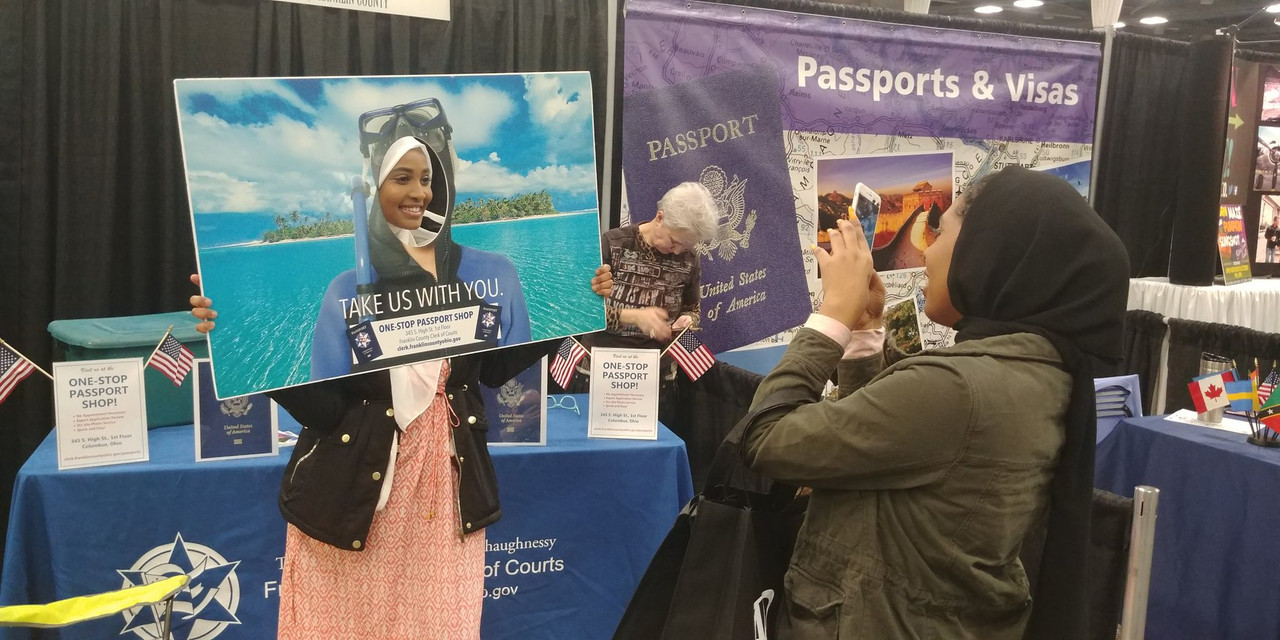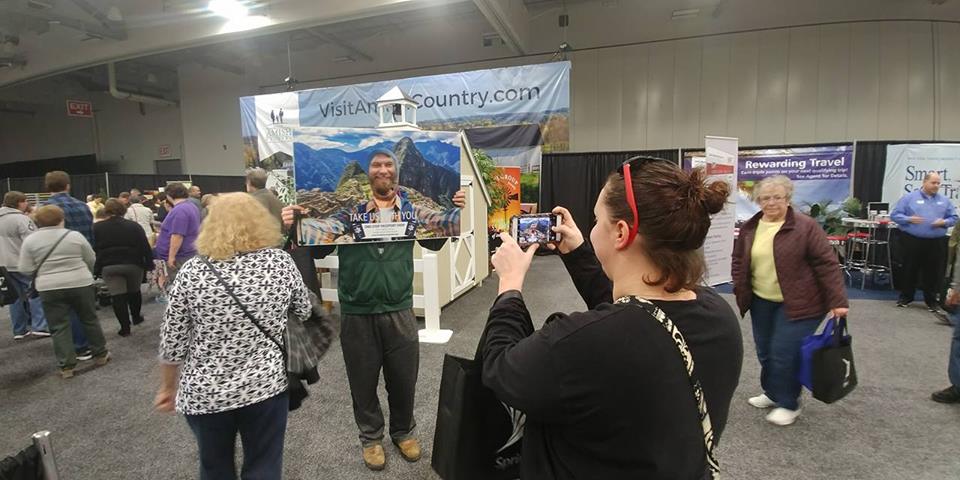 A very special thanks to Deputy Clerks Kimberly Conroy, Minday Kay, Liz Rohm and Isabella Woody for helping to staff our booth at the expo. We had an amazing time sharing our services with "the world," and we hope to be back for next year's show! (If you are interested in having our passport booth at your event, please contact us at franklincountyclerk@franklincountyohio.gov.)
New Payment Location: OFS on the Move
In a move to best serve the general public, attorneys, and others who interact with the Clerk's Office of Fiscal Services, staff recently relocated to offices at 345 S. High Street, on the first floor adjacent the Clerk's General Division.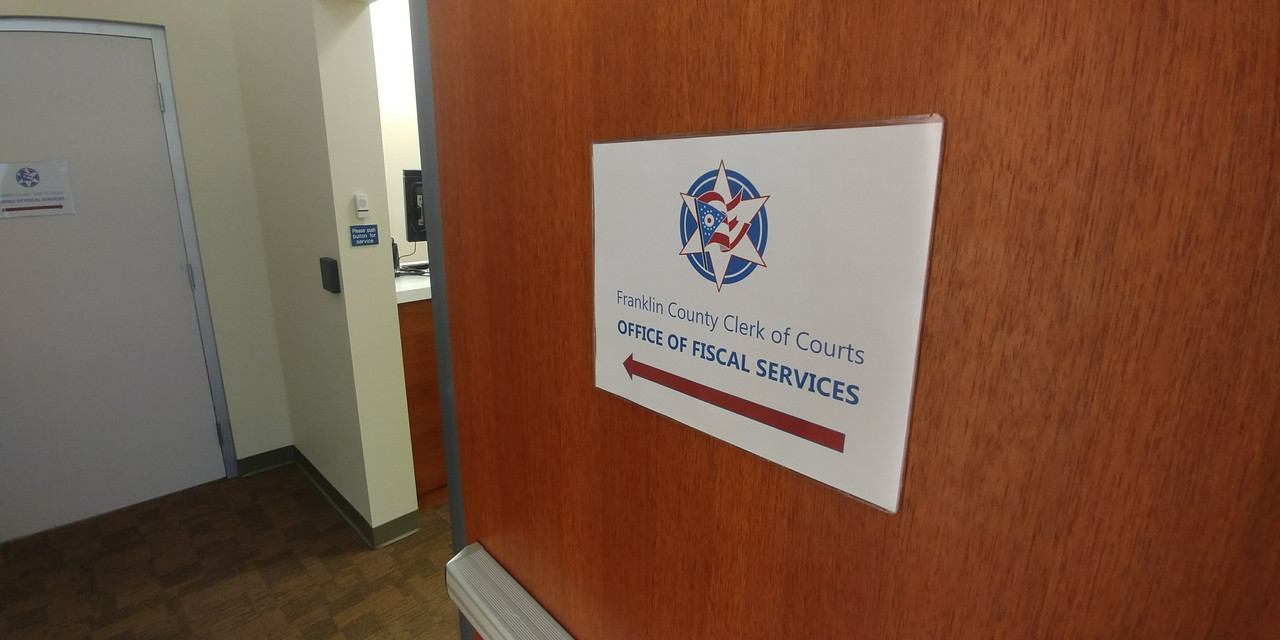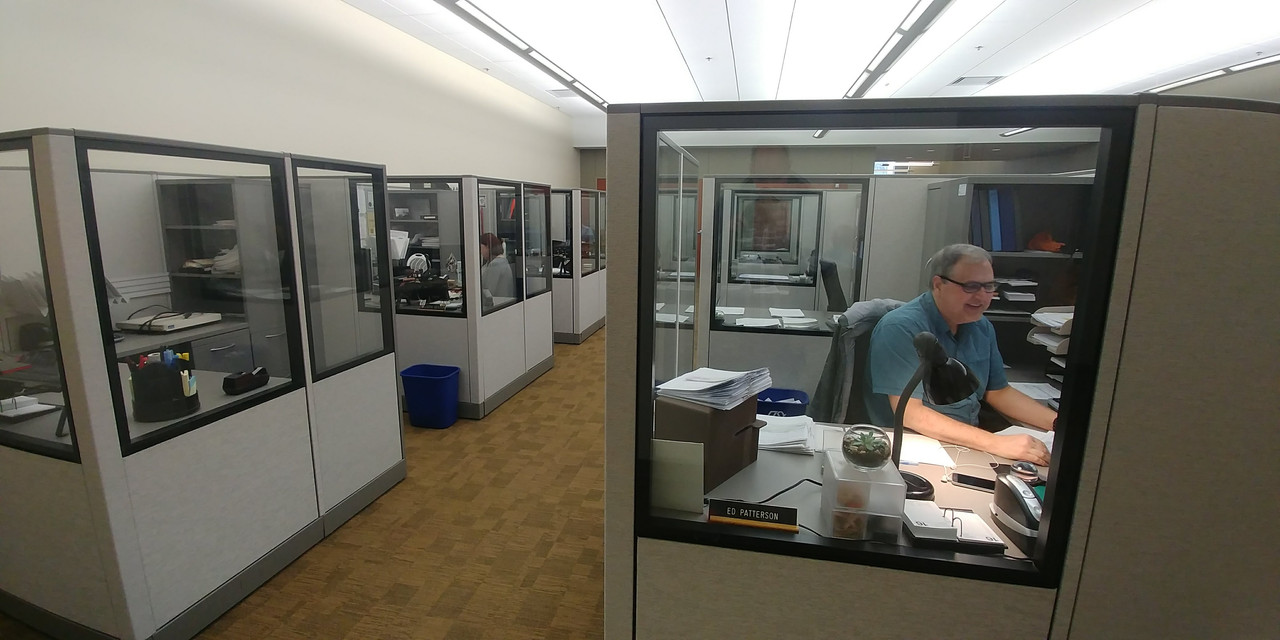 Employees responsible for managing all bookkeeping of court costs and fees are now located in the county's Courthouse, on the corner of Mound and High Streets. For questions related to OFS services, customers can call 614.525.3600 and ask to speak with a Deputy Clerk in the Office of Fiscal Services or visit their new location.
Shout-Out: Columbus Underground Promotes Clerk's Passport Service
The word is out about our One-Stop Passport Shop—just ask ColumbusUnderground.com, who recently published a feature highlighting the Clerk's passport services.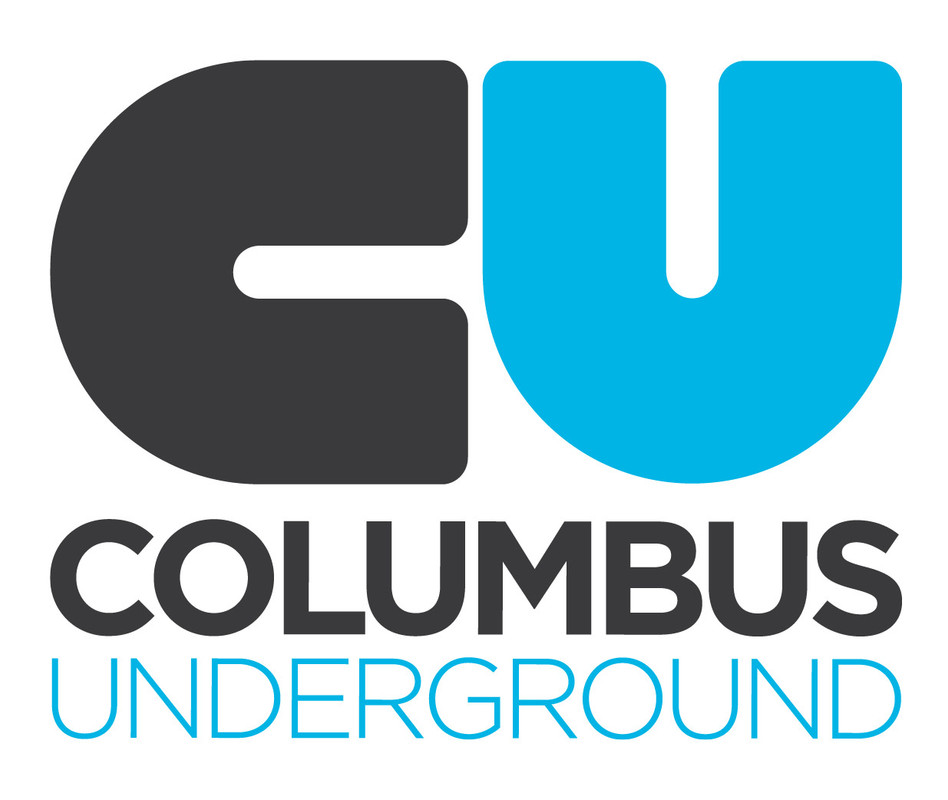 "Instead of cramped corners and endless lines, you'll find wide open spaces and certified passport specialists ready to help you with the process and perform a final, thorough review of your application," the article notes. "The best part? No appointment of any kind is required; just show up with the necessary documents and you're ready to apply."
Columbus Underground, a "community-driven website that offers news, reviews, events, opinions and insight regarding all topics related to life in Columbus," attracts nearly 400,000 readers to its site each month. (That's a lot of passports!)
Shout-Out Part 2: Court News Ohio Recommends Clerk's Website for Updated Forms
"Submitting the correct forms to courts is a critical step in the legal process," writes author Kathleen Maloney in an article recently published by Court News Ohio, a service of the Office of Public Information of the Supreme Court of Ohio. "The centralized hub for finding the correct forms is the Franklin County Clerk of Courts' website."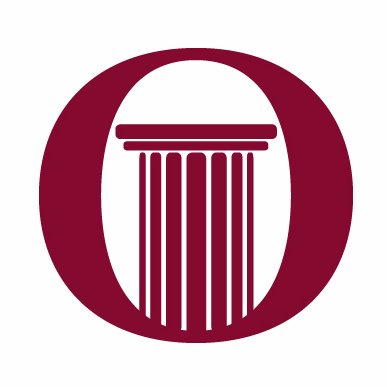 Attorneys may have saved forms on their computers from many years ago and haven't checked to ensure they're using the most recent versions, according to Maloney, who notes that the Clerk's office often receives filings with incorrect court addresses, the wrong clerk's name and old information.
The Clerk's very own Communications Director Xenia Palus was quoted in the article, which provides detailed instructions for accessing forms on the Clerk's website as well as the Franklin County Law Library. "We hope this guidance assists attorneys so they are successful on their first attempt when e-filing," Palus said.
TAC in ACTion
Good News of Good Work: Customer Service Standouts
Here's a sample of some of the outstanding feedback our staff received this quarter:
"The employees in [the Domestic Relations Division] are the most friendly and helpful staff I have encountered in 28 years of the practice of law!" —Mike W., via comment card
"Amazing... Kristen was so sweet and helpful on the phone and even when i came in, and Courtney was an absolute delight. I have never experienced such great customer service and personality... Thanks so much!" —Esther C., via comment card
"Markese and Angela were a big help. They were very knowledgeable." —Kelsie, K., via comment card
"Wow! Amazingly fast and efficient. In and out [at Auto Title South] in less than 5 minutes!" —Charles R., via comment card
"Debra was very professional and helpful. She made the process painless (I was worried). She put me at ease. I thank you for having workers who help people in doubt through the process." —Tracey M., via comment card
"Dena needs a raise! By far the kindest, most patient and helpful person that I have ever dealt with at any government office. Whatever you are paying her is not enough!" —Don T., via comment card
"Courtney is a beast!!! Giver her a raise!" —anonymous, via comment card
"Mr. Ed Clark was of great service to me when I lost my iPad and journal. He hunted me down to tell me they had recovered it. I am so thankful for the courtesy and caring I received." —Mike N., via comment card
"Leanna went above and beyond to help me with a problem I was having with my title." —William P., via comment card
"Guard [at Auto Title North] was very friendly. Excellent, professional and courteous staff. EXCELLENT SERVICE!" —R.D., via comment card
"I had a critical deadline, i.e., time was of the essence, and I needed docs back from the Clerk. They were prepared and ready for me in record time and I was very grateful. Thank you to Deborah and Cheryl." —Stacy S., via comment card
"What a great and efficient experience [at Auto Title North]! Very polite and we love the screen that shows the list and your name as it is called!" —Jennifer D., via comment card
"The people [in the Juvenile Division] were really nice and helpful." —Crystal, via comment card
"[General Division] received a phone call from [an attorney] in regards to the excellent customer service he received from Mindy Kay. He said that his office submitted a Civil Case filing incorrectly. Mindy was able to get the incorrect one rejected and he was able to file it corrected. He said she is terrific. He has been practicing for 52 years and the electronic eFiling is not easy to him but Mindy made it better." —Michael G., via phone call
"I wanted to rave about the great service Judy Raphael provided me in what was a very stressful situation. I was quite shaken by what I needed to do, but Judy was so kind and patient. I had to let her boss know about this good service I received." —Joyce M., via phone call