The Clerk's Letter
2017: A great year, a growing movement and 50 years of public service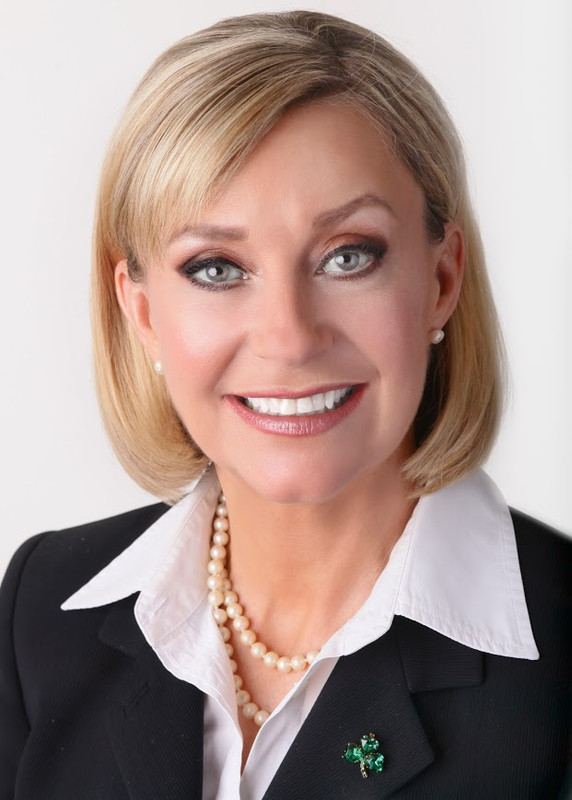 It's hard to believe the first year of my third term as your Franklin County Clerk is coming to an end. But, to use a play on a familiar expression, "Time flies when you are doing great work!" And my Deputy Clerks and this office are involved in great work and projects that positively impact our specific audiences—the legal and auto dealer communities—as well as the general public. Beginning in 2009 and continuing through today, we have celebrated a number of accomplishments and continue to pursue other projects that will profoundly improve our level of service to all our customers.
In my many years of public service and in the work place, I have been an outspoken advocate for women's equality. Recently, my office joined with more than 60 other workplaces to sign the City of Columbus' Columbus Commitment, pledging our support for pay equity. Under the leadership of Shannon Ginther, the Women's Commission officially held its kick-off event in November 2017 and announced the names of those early adopters. I was heartened to see such a tremendous number of representatives—both women and men—at the signing, standing in support of this long overdue initiative. (See the article that includes a link to the Commission and photos from the day's activity.)
I also was happy to join with County Recorder Danny O'Connor and Commissioner Marilyn Brown to participate in a facilitated conversation, "Gender By Us." Central Ohio Women's Fund has conducted these "table-top talks" in our community, and recently asked the county to host this conversation. These frank talks offered participants the opportunity to realize and recognize how words can affect (positively and negatively) perceptions of one group by another. Words do matter, and more importantly, word choices are significant. If you are interested in hosting a facilitated session at your office or with a community organization, see the article "Gender by Us" in this newsletter for more details.
I have been honored to serve in public employment for many years. No one, however, is more deserving of our appreciation for his more than 50 years of service than Hugh Dorrian, City Auditor. I've enjoyed knowing "Mr. D" since the late 1960s, during my Uncle Jerry's and my father's time in public office, so he was one of the first elected officials I looked to for guidance and support when I became a City Council Member. His successor, Megan Kilgore, without a doubt will have large shoes to fill. However, based on her own merits, skills, and abilities I am confident that she will establish herself in this community as more than capable and worthy in her role. It is women like Megan who make me hopeful that crippling gender biases are becoming a thing of the past.
May your holidays be bright, cheery, and joyous as you gather with family and friends during your special celebrations, and we look forward to a happy and productive New Year in 2018.

Auto Title
Columbus Commitment: Our pledge to pay equity
The Franklin County Clerk of Courts' office is proud to be an early adopter of the City of Columbus' Columbus Commitment, an initiative to encourage Columbus-area organizations to make their commitment to pay equity for both women and men in the workplace.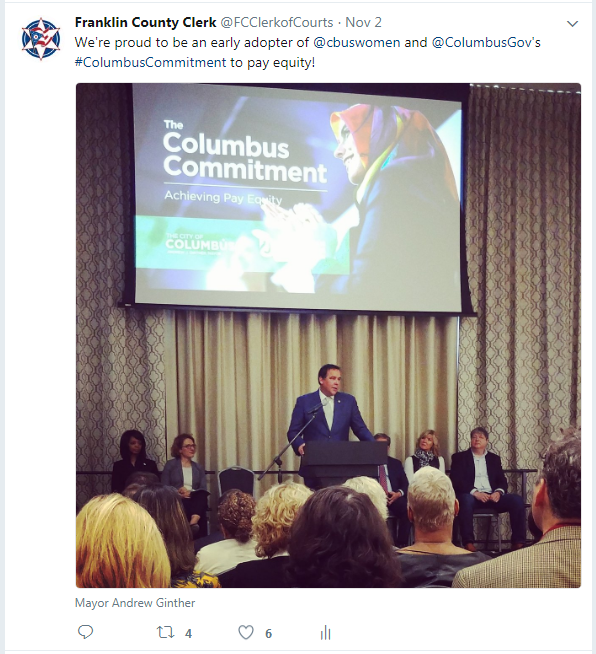 "Women in Columbus earn 78 cents to every dollar earned by a man," according to the Columbus Commitment website. "This puts Columbus even lower than the national average of 80 cents for every dollar earned by a man. Women of color experience even greater disparity. Nationally, African-American women earn 63 cents for every dollar a man makes, while Latina women earn 54 cents. Despite this, women are participating in the workforce at a rate of 63% in Central Ohio and make up just over 50% of our population locally."
The Columbus Commitment is a joint initiative of the City of Columbus and the Columbus Women's Commission. Visit the website for more information.
Panel discussion from The Women's Fund of Central Ohio: Gender By Us
The Women's Fund of Central Ohio facilitated a series of table top conversations at the invitation of the County on Nov. 29. Guest panelists included Danny O'Connor, County Recorder, Marilyn Brown, County Commissioner, and Maryellen O'Shaughnessy, County Clerk of Courts. More than fifty attendees representing several county offices and agencies participated in the hour-long talks. Several "ah ha" moments were realized as topical questions were presented to each table's participants. A few topics in the "Gender by US Toolkit" challenged participants to consider their notion of gender norms (i.e. what it means to "act like a man" or "act like a woman") and implicit biases, and the unique experiences of gender bias and gender norms. Question cards prompted participants to discuss what is reflected in society—from pop culture, movies, TV, to our daily work environments. Other questions challenged participants to talk of their own behaviors and expectations related to gender as well as their thoughts, conscious or unconscious, and conclusions that are made based on others' race, culture, or gender.
At the end of the 90 minute facilitation, each table's representative shared conclusions discovered during their group's conversations (e.g. those "ah ha" moments). Some participants indicated an increased awareness of their personal experiences and impact of gender norms on others and groups. While change is not immediately guaranteed, these conversations are a first step in an increased awareness of the impact of words and actions of gender norms and bias. Perhaps those participants will positively contribute to a cultural shift in this local government.
If your office or organization is also interested in hosting a session, facilitated by an expert from the Central Ohio Women's Fund, visit the Gender By Us website.
Digital trends: The Clerk goes LIVE on social media
Our office is leveraging social media to inform Franklin County residents about our public services and the great work of our Deputy Clerks. One way we're doing that is through live-streaming—real-time video broadcasting directly from Clerk O'Shaughnessy to our followers.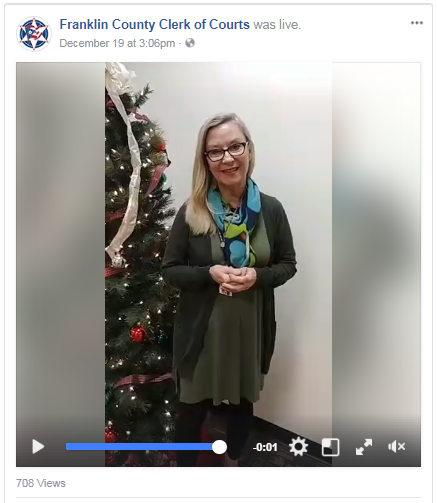 For important announcements, information about Clerk of Courts services and tools, or in this case, a holiday message from Clerk O'Shauhgnessy to the people of Franklin County, be sure to follow our official accounts on Facebook, Twitter and Instagram!
Legal Divisions
Coping with Court: A conflict-free holiday season
"The best present you can give your kids is a holiday season that's free of conflict between their parents." —Nolo's Essential Guide to Divorce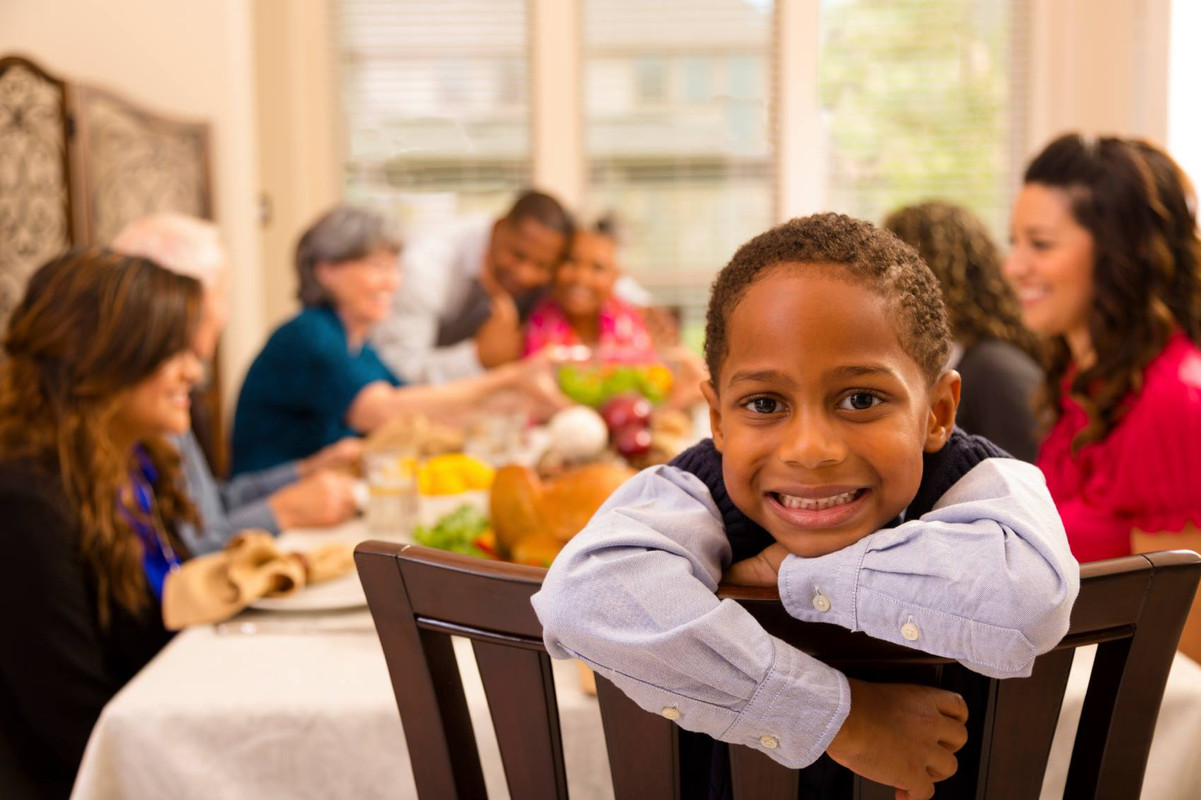 The holidays can be an extremely stressful time for families dealing with divorce. Our reading list, "Coping with Court: Suggested Reading for Plaintiffs, Defendants and Families," offers titles like Nolo's Essential Guide to Divorce to assist those struggling with the personal and emotional toll of ongoing legal issues. View the full reading list.
Payment location change: The "buck" stops at 345 South High in 2018
The Clerk's Office of Fiscal Services' payment section (OFS), currently located on the 23rd floor of 373 S. High Street, will move to new offices in 2018. The section that manages all accounts payable and receivable will relocate to the first floor of 345 S. High St. adjacent to the Clerk's General Division. Look for OFS to be in its new office within the first month of the New Year. Signage identifying their new location will be posted throughout the County's complex, and Security Guards can offer directions to OFS' new location.
Save the Date: We're headed to the AAA Travel Expo!
Look for the Clerk of Courts at the Jan. 19-21 AAA Travel Expo, held at the Greater Columbus Convention Center. We will be promoting our One-Stop Passport Shop and sharing information about our public services!
Personnel/HR Update
Holiday Hours: Closed Christmas and New Year's Day
Here are the upcoming holiday hours for all Franklin County Clerk of Courts offices and locations:
Monday, Dec. 25, 2017 - CLOSED
Monday, Jan. 1, 2018 - CLOSED
All offices will resume normal business hours on Jan. 2, 2018.
TAC in ACTion
Customer service shout-outs and standouts
Here's a sample of some of the outstanding feedback our staff received this quarter:
"Alexa Jenkins: I dropped a $50 bill, she came out to the parking lot and returned it. I appreciated it very much." —Regina L., via comment card
"[Customer] had the most wonderful customer service experience with Judy Raphael over the phone. He said she was nice and patient and helped him with his filing and he wishes he could have talked to her all day. She took her time with him and even helped him with his spelling because of his disability. He wanted to take the time to compliment her because people are so quick to complain." —Daniel G., via phone call
"I was finally able to get the matter taken care of by wonderful Mindy and her supervisor Becky. They were very pleasant and helpful. We need more like them!" —Mrs. R., via email
"[Customer] came in today to get his title. He stated that before he came in, he had spoken to [Jim Feeney] on the telephone about his situation. He admitted that he was aggressive and agitated due to some health issues. He said that [Jim] calmed him down and helped answer his questions. His mother who was with him also wanted to express her gratitude. He said that it was the best customer service he has ever been given and he loved his experience with this office!" —Logan B., via in-person feedback
"I have to say I'm pleased with the [Auto Title North] office! You check in and sit down until it's your turn. My wait has never been too long. Very efficient and everyone is nice." —Linda T., via email