The Clerk's Letter
Clerk's Letter: No Summer Break from Public Service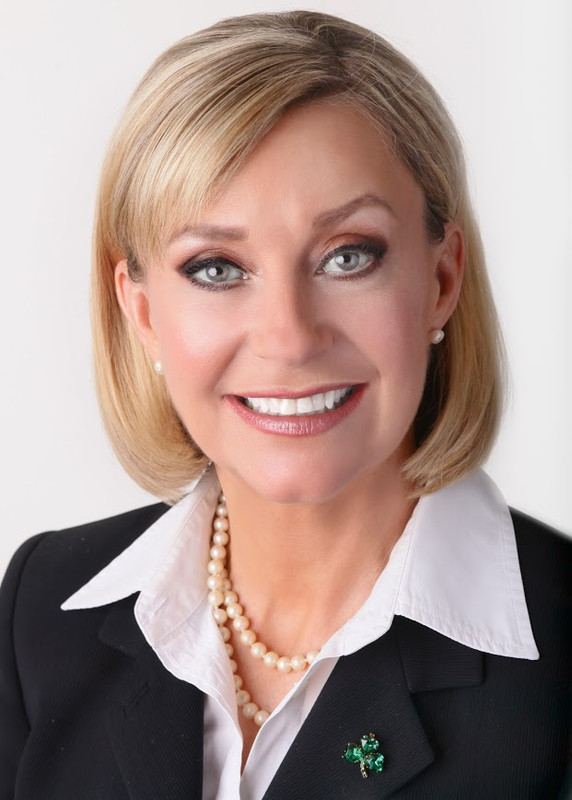 Songwriters from George and Ira Gershwin and DuBose Heyward, Sly and The Family Stone, The Beach Boys, to Olivia Newton John and Justin Timberlake have sung songs of summertime's carefree and easy living. While this season results in many vacations and temporary escapes from work, the Franklin County Clerk of Courts' office doesn't take any extended breaks from our duties. Regardless of the season, my Deputy Clerks continue to fulfill their daily responsibilities in step with the office's Timely, Accurate and Courteous mantra. Their work doesn't stop because the volume of cases filed to the Court of Common Pleas and the 10th District Court of Appeals doesn't take a vacation.
If you are fortunate to plan your escape and trek to lands outside U.S. borders, you may need a passport. Visit our ONE STOP PASSPORT SHOP for convenience, reasonable pricing, and exceptional service. No appointment is necessary and we provide an on-site photo option for a cost within or under other retail locations. Read the article in this issue for related details and links to the Department of State's official application. Then you can be on your way!
More than 150 years of public service gathered recently at Griggs Reservoir to formally dedicate the Gregory S. Lashutka Event Center. Having advocated to preserve the historic building during my time on Columbus City Council, it was particularly satisfying to witness the culmination of decades of hard work and collaboration by so many people. Recognizing the former mayor were sitting City of Columbus Auditor Hugh Dorrian, current Columbus Mayor Andrew Ginther, and former Columbus Mayor Michael Coleman. The dedication featured the unveiling of a portrait of Mayor Lashutka, created by local artist Leslie Adams. The Event Center was a former dam-keeper's house built in 1817, and many events will occur in the beautifully renovated space; perhaps it will host one of your events someday.
In sad news, Columbus lost a long time public servant and friend to many in this community on June 24, 2017. Richard "Dick" Ryan, who was married to Fran Ryan for 61 years, was a longtime friend and colleague to this Clerk of Courts. Ryan set the standard for many in government and politics to do good work.
You can read about our Deputy Clerks' good work in the TAC in ACTion section of this issue. We are grateful to those individuals who send in their letters, emails, and notes of appreciation for the best-in-service received at either one of our five legal divisions or four auto title branches.

Legal Divisions
Capital Law: The e-Filing World Tour Continues
The Clerk's Communications team hit the road once more to visit Capital University Law School, where a class packed with paralegals learned about the work of our office and the basics of e-Filing through a hands-on tour of our website, Clerk.FranklinCountyOhio.gov.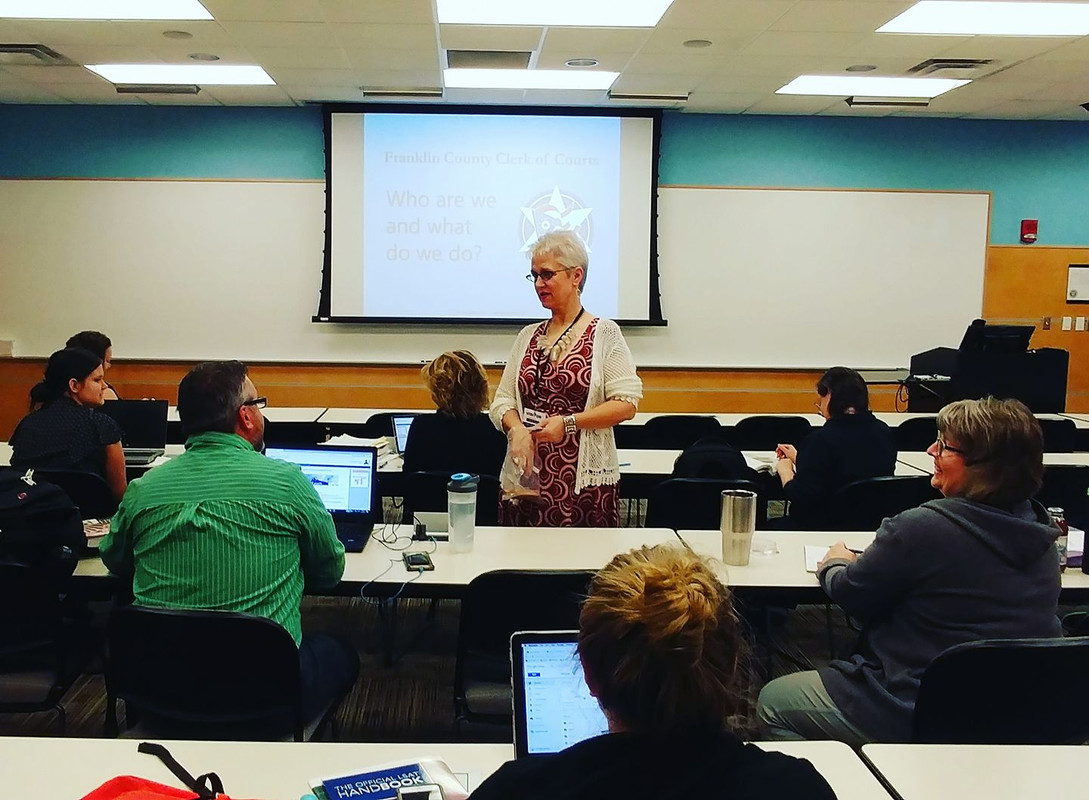 We spoke at the invitation of Professor Mindy Schaefer, who also serves as President of the Paralegal Association of Central Ohio. If you are interested in having us present to your office, organization or civic group, send us an email at franklincountyclerk@franklincountyohio.gov.
See you soon!
30 Years of Service: We'll miss you, Joyce!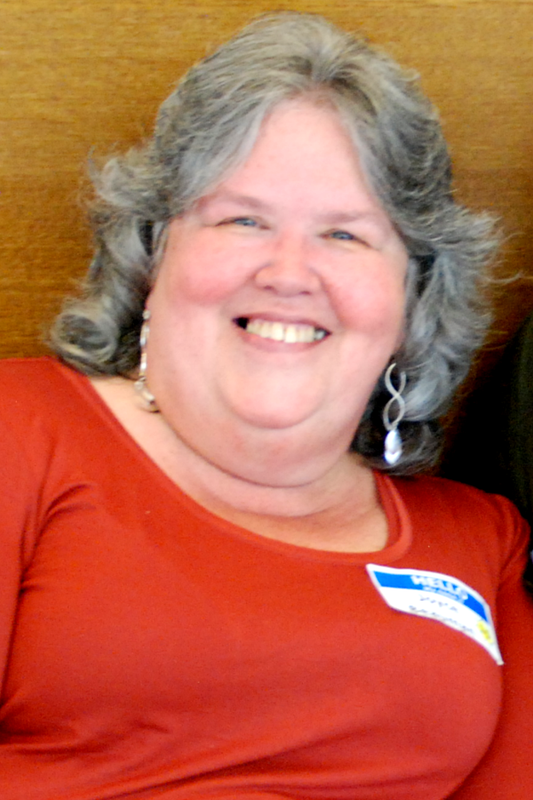 Joyce Beauman is retiring. Thank you for more than 30 years of service and commitment to this office.
I so enjoyed working with you when I first joined the Clerk of Courts' office seven years ago. We took the "show on the road" and visited the major law firms in town. You shared your expertise of our Case Information Online and general filing information in those presentations with many attorneys. (I'd even suggest that you probably know more about legal filings and legal "stuff" than some in the audience.) But, you handled each of the sessions and all the questions thrown at you with professionalism and a great level of integrity.
During your tenure in this office, you've served under an amazing seven Clerks in total: Tom Enright, Jessi Oddi, William Shimp, Virginia Barney, John O'Grady, Thomas Lindsay, and three terms under Clerk O'Shaughnessy. Your expertise and knowledge has been imparted to many of your co-workers and colleagues. NOW, you can retire in comfort knowing that you have trained many of your co-workers, including your successor, who will continue in the tradition of "TAC" service. (I'd even suggest that your shared knowledge extended beyond the Clerk's office spilling over to many others in county government. And because of those interactions, you helped make everyone better.)
All the best in retirement, Joyce. I for one, and many others, will miss you! But we know you have left us a bit better in all that we do in the Clerk of Courts' office.
—Xenia
Our Seat at #TheBigTable
Nearly 5,000 people from more than 30 different cities gathered together on May 17, 2017, to discuss what challenges and strengthens central Ohio as part of The Big Table, a day of discussion and community-building organized by The Columbus Foundation. Among those taking part were several members of Clerk O'Shaughnessy's Senior Staff, including Communications Director Xenia Palus...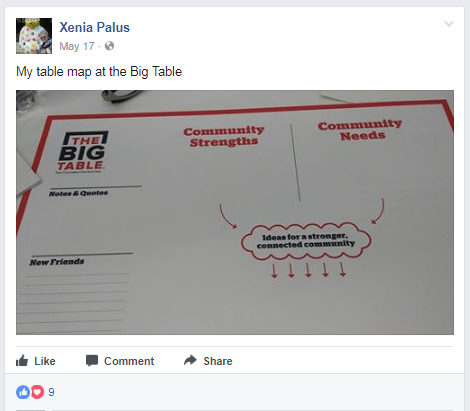 ... as well as Director of Legal Operations Antone White (left).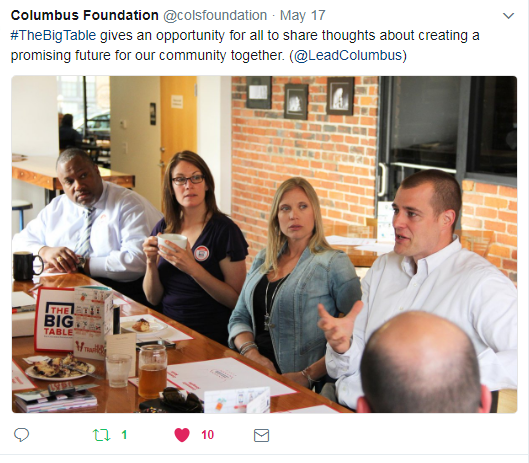 Needless to say, the vision and leadership of the Franklin County Clerk of Courts office was well-represented at this year's Big Table, and we're already looking forward to continuing to strengthen our community at next year's event!
Summertime Travel Tip: Visit the One-Stop Passport Shop!
Our One-Stop Passport Shop prides itself on convenience and customer service, and we want to tell everyone just how great it is! This past month, we mailed out "souvenir" postcards to more than 2,400 downtown workers and businesses inviting them to stop in and apply or renew their passports, with the added bonus of a free photo offer through June 30.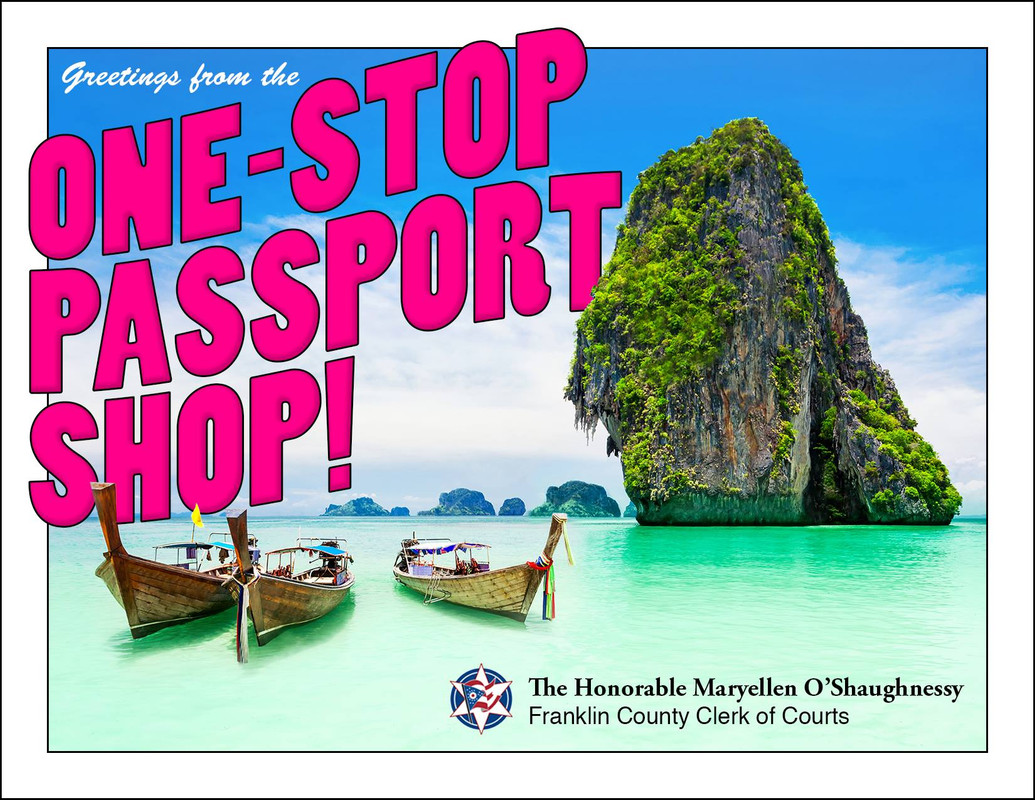 For those who may not know, the One-Stop Passport Shop, located in the General Division at 345 S. High St., features walk-in service (no appointment necessary), expert application review by certified passport acceptance agents, and onsite photo services. Visit our website to download a passport application and learn more about fees, requirements, and other passport information.
Auto Title
Open for Business: Auto Title East Gets New Digs
May 1 marked the beginning of a new era for our Auto Title East location, as operations were moved into the recently renovated offices at 1583 Alum Creek Drive. Transitioning to the new space was truly a team effort. Thanks to all the deputy clerks and everyone else who put in so much hard work and effort to get us settled into our new offices... Come see us for your next title transaction!
Communicating in Times of Crisis
The Clerk's office recently participated in a "tabletop crisis" training event for Capital Area Public Information Officers (CAPIOs) at the Central Ohio Red Cross, led by federal disaster communications pro Kevin Sur.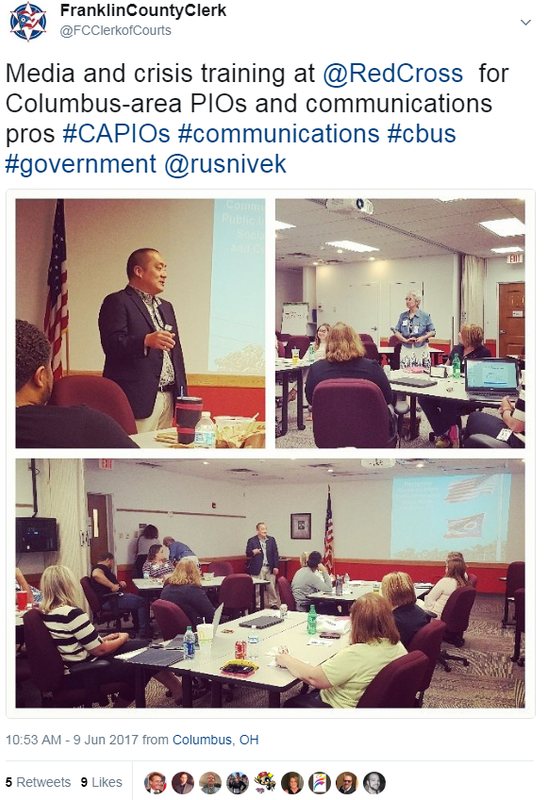 Attendees responded to a fictional emergency caused by extreme winter weather and a highway accident involving a hazardous materials tanker.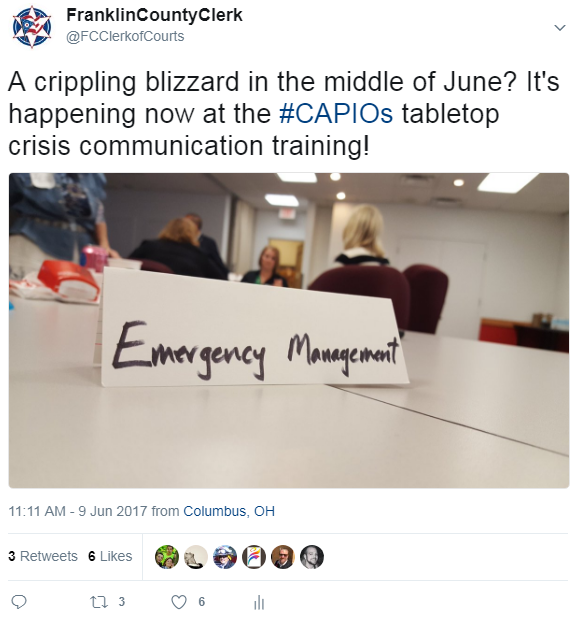 Topics covered included collaborating with law enforcement agencies and first-responders as well as disseminating information to the media.
The exercise was designed to help local government communications professionals coordinate with one another in the event of a city- or county-wide crisis.
TAC in ACTion
Shout-Outs and Standouts: TAC in ACTion
Here's a sample of some of the outstanding feedback our staff received this quarter:
"Our service here was exceptional. Courtney was very pleasant and helpful with us. Our transaction was handled professionally and in a timely manner. Thanks!" —Ron and Paula F., via comment card
"Wow! Didn't know what process to follow and Lisa and Rachel went above and beyond to help! Thanks so much!" —Maureen G., via comment card
"I had to have a title replaced. I regret not getting the young lady's name that helped me [Auto Title South], but she was wonderful, very courteous, friendly… she was magnificent!" —Mickey C., via comment card
"Debra was very helpful. I just wanted to say that to someone. This is the most helpful Auto Title place I've ever been in!!" —Nancy T., via comment card
"Linda assisted us in a very difficult out-of-state title transfer. She did a phenomenal job at walking through the process step-by-step. She knows and does her job very well. She is a huge asset to this location." —Lawrence B., via comment card
"This is the most helpful office I have ever been in. Thank you, Dana helped me this time." —Nancy T., via comment card
"I want to acknowledge Alexa who was very helpful in what could have been a very bad experience. She was awesome." —Valerie M., via comment card
"Had been issued incorrect titles for two vehicles [previously]. Without hesitation, Niyokia and Tracey worked together to correct the mistake. Was presented two correct titles in about 10 minutes. Very satisfied with their good work." —Barry E., via comment card
"I visited [Auto Title West] to transfer a title to my daughter. OMG, if only all government offices were like this one. Professional, gregarious people doing things in an excellent way. Thanks!" —Jim J., via email
Upcoming Events
Franklin County Fair 2017 Here We Come!
It's that time of year again, and we're headed back to the Franklin County Fair! This year's festival is even more special, as it marks the fair's 100-year anniversary.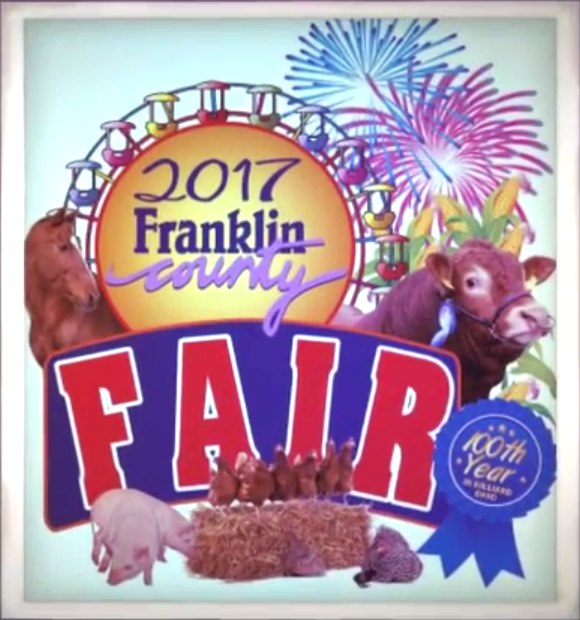 The Franklin County Fair runs from July 15-July 22 in Hilliard. Visit the official website for a full schedule of events and activities, performances, and fun.